Usual price
€ 77.70 EUR
promotional price
€ 51.90 EUR
Unit price
by
-33% DISCOUNT
Out of stock
Ce pack of 3 Period Panties is the perfect combo for comfortable periods without breaking the bank!
A pretty waterproof pouch washable is FREE! (Value: 9,90 €)
Our menstrual shorty is the perfect alternative to disposable sanitary protection. This model, discreet and comfortable, will slip under any outfit, day or night. Adorned with pretty lace patterns at the waist, our menstrual shorty offers both a feminine fit and a excellent support without layer effect. This menstrual underwear will accompany you, without being noticed, throughout your cycle. A menstrual protection which will be perfect for women with a light, moderate or heavy flow. Thanks to an assembly of several natural fabrics super absorbent, menstrual shorty will allow you to live your period in all serenity.
✅ Up to 12h protection
✅ Ultra-absorbent
✅ For light, moderate or heavy flow
✅ Leak-proof, odor-proof and moisture-proof technology
✅ Without toxic products
✅ Washable & reusable

Our model is 1m65 tall and wears a size M
Composition

Our Period Panties are made from natural materials that guarantee excellent comfort during your period.

Crotch: 95% Cotton and 5% Elastane + Waterproof PUL

Interior: 95% Organic Cotton and 5% Elastane
Technology

Our period swimwear is designed to offer both style and comfort, just like your favorite swimwear. But it goes beyond that.

Our leak-proof technology integrates multiple layers of fabric to absorb the equivalent of XNUMX to XNUMX tampons, giving you up to XNUMX hours of reliable protection!
Shipping

FREE Worldwide Shipping on All Orders!

Order processing takes 24 to 48 hours before shipping. Once your item(s) have been dispatched, the estimated delivery times are as follows:

<li>France: 6-10 working days</li>
<li>Europe: 8-13 working days</li>
<li>Rest of the world: 15-20 working days</li>
Returns

Shop our period panties and swimwear risk-free. We offer a 14-day money-back guarantee on all orders.
Show all details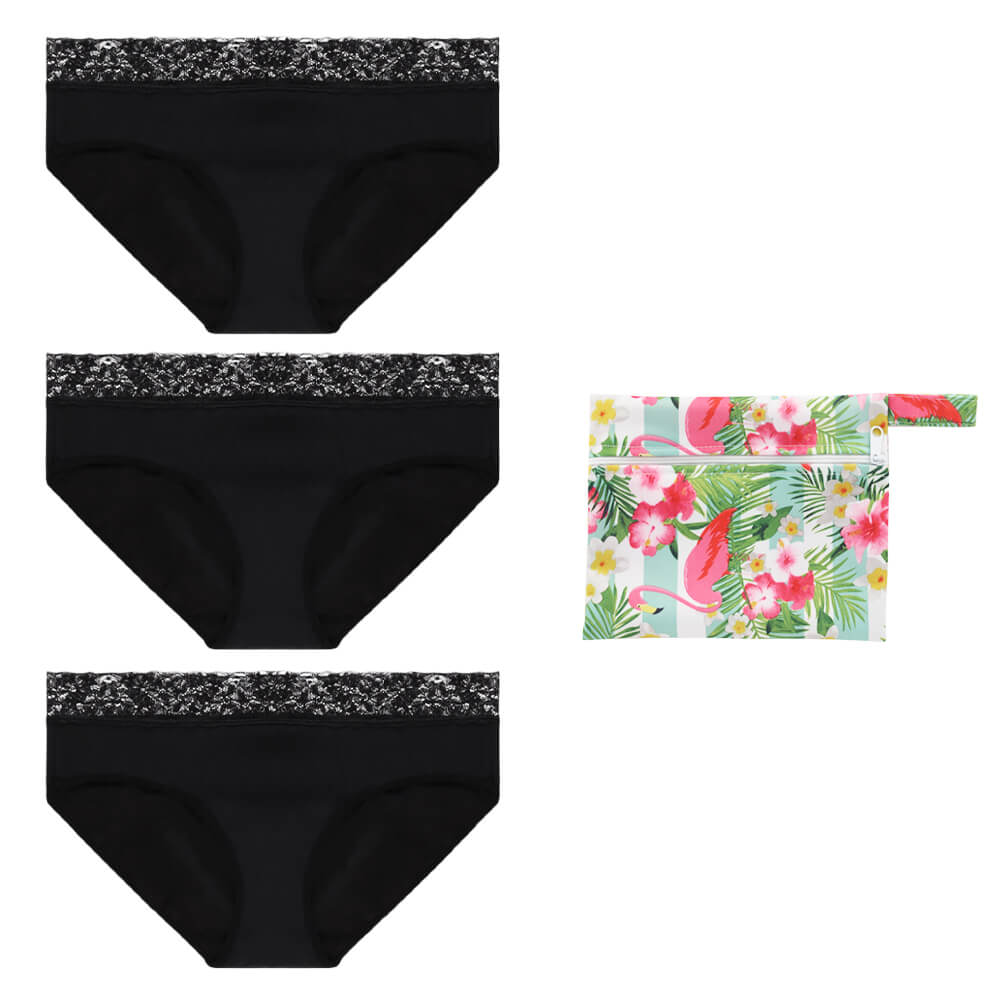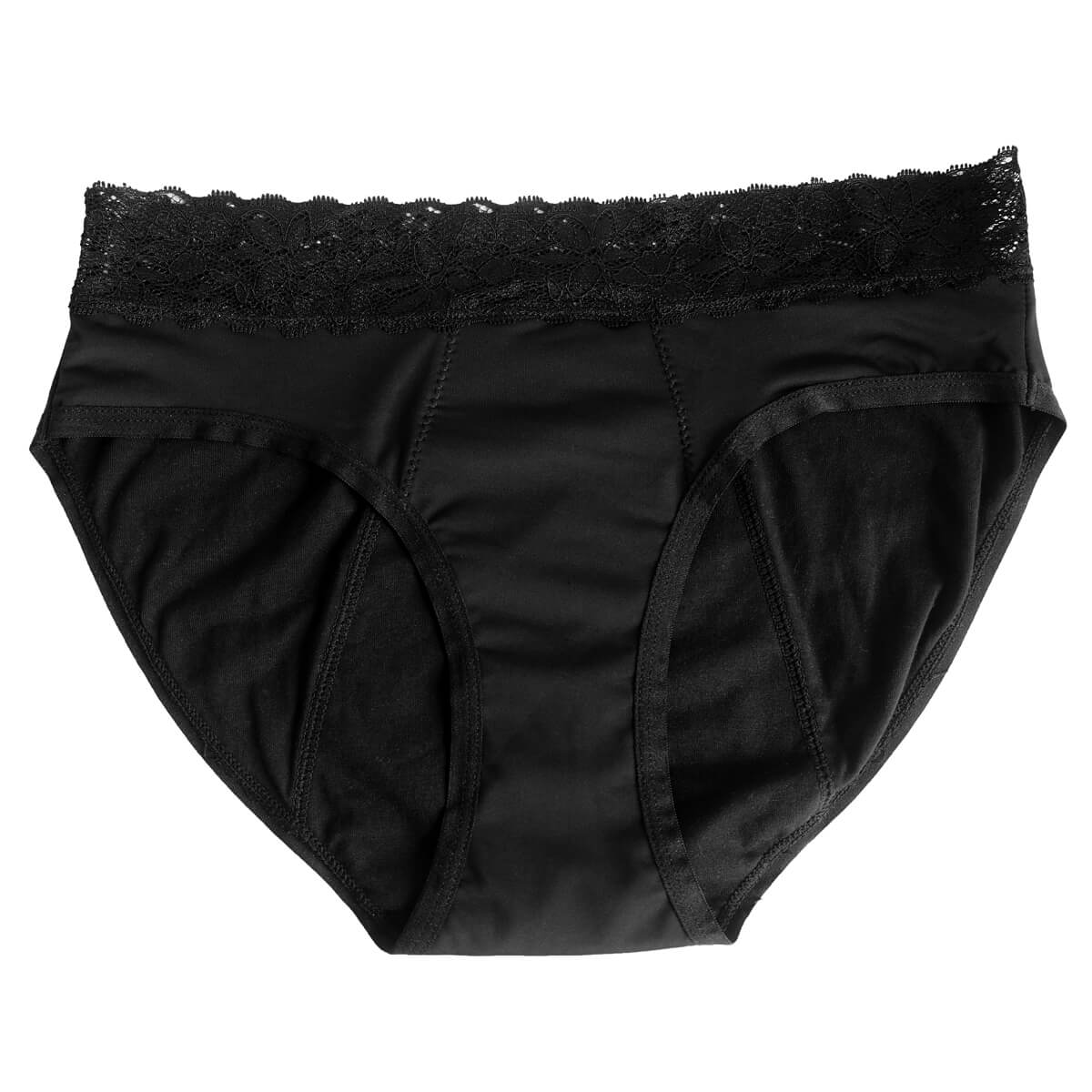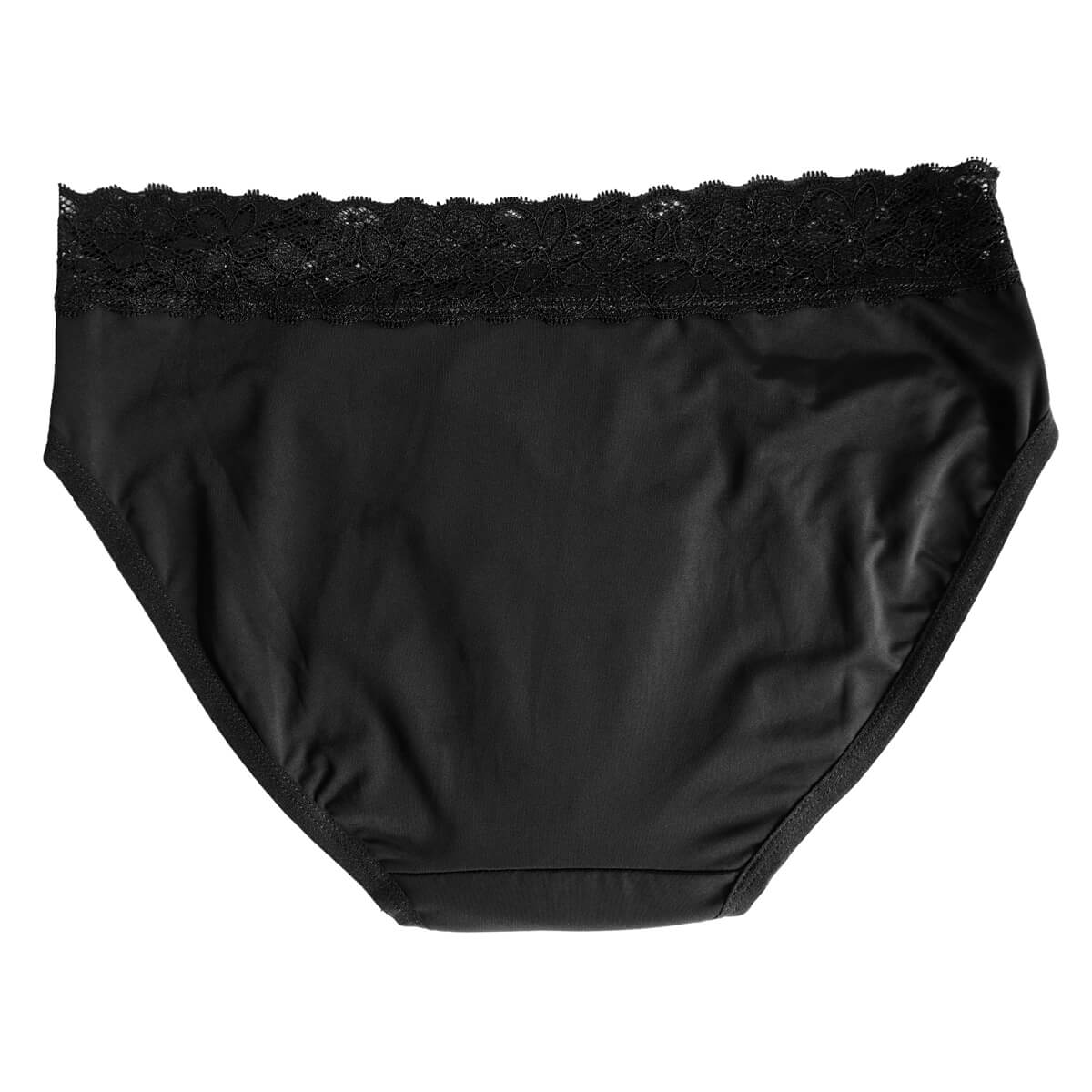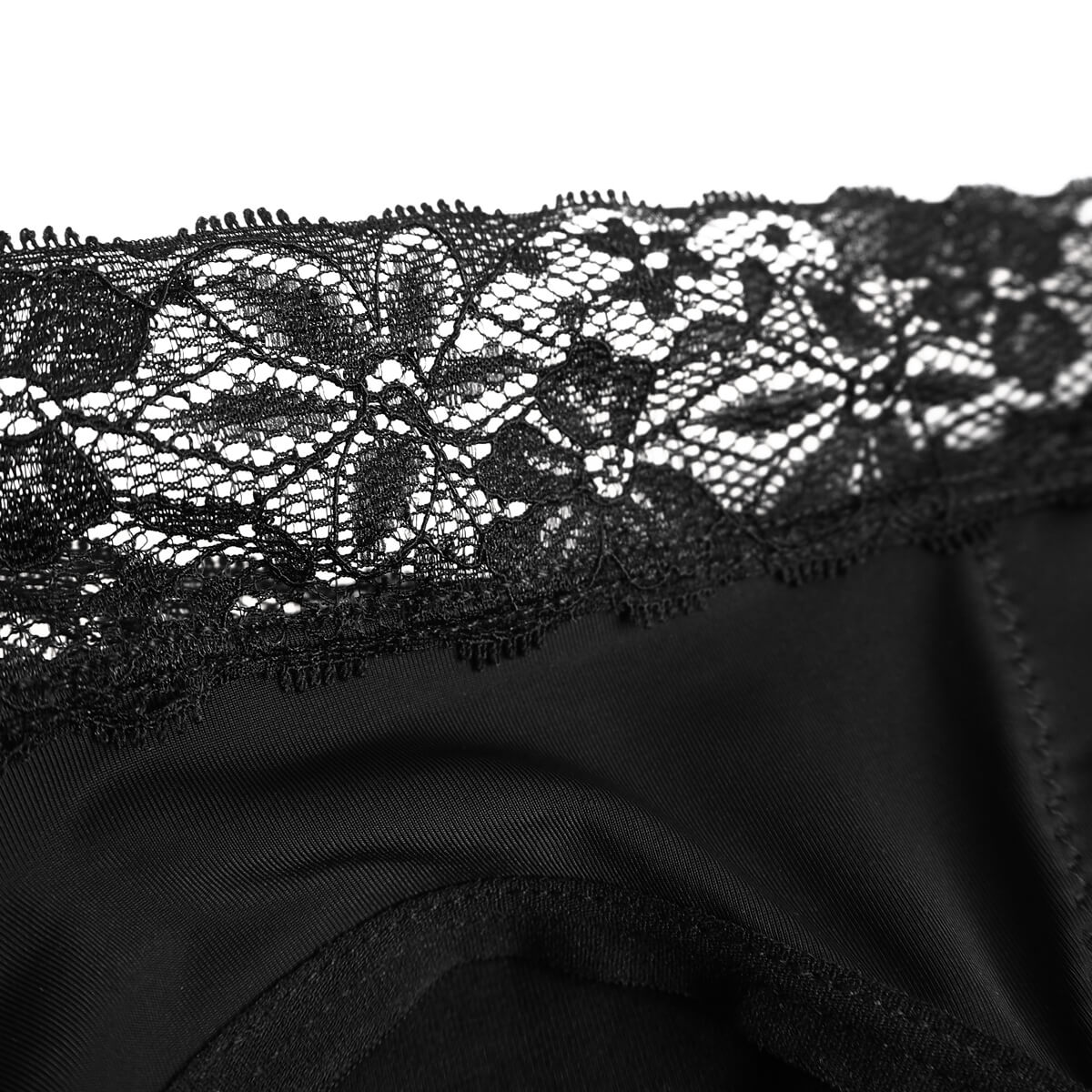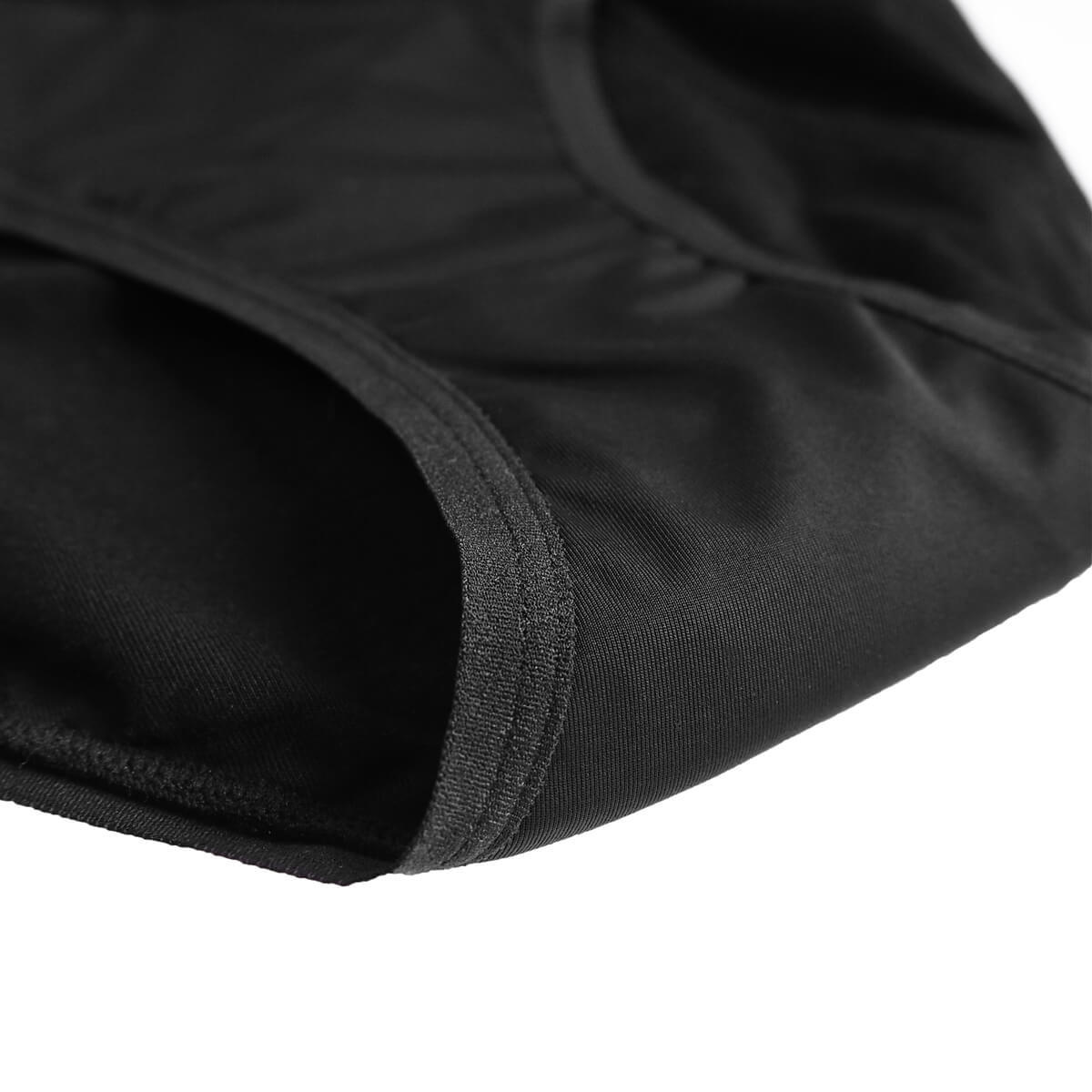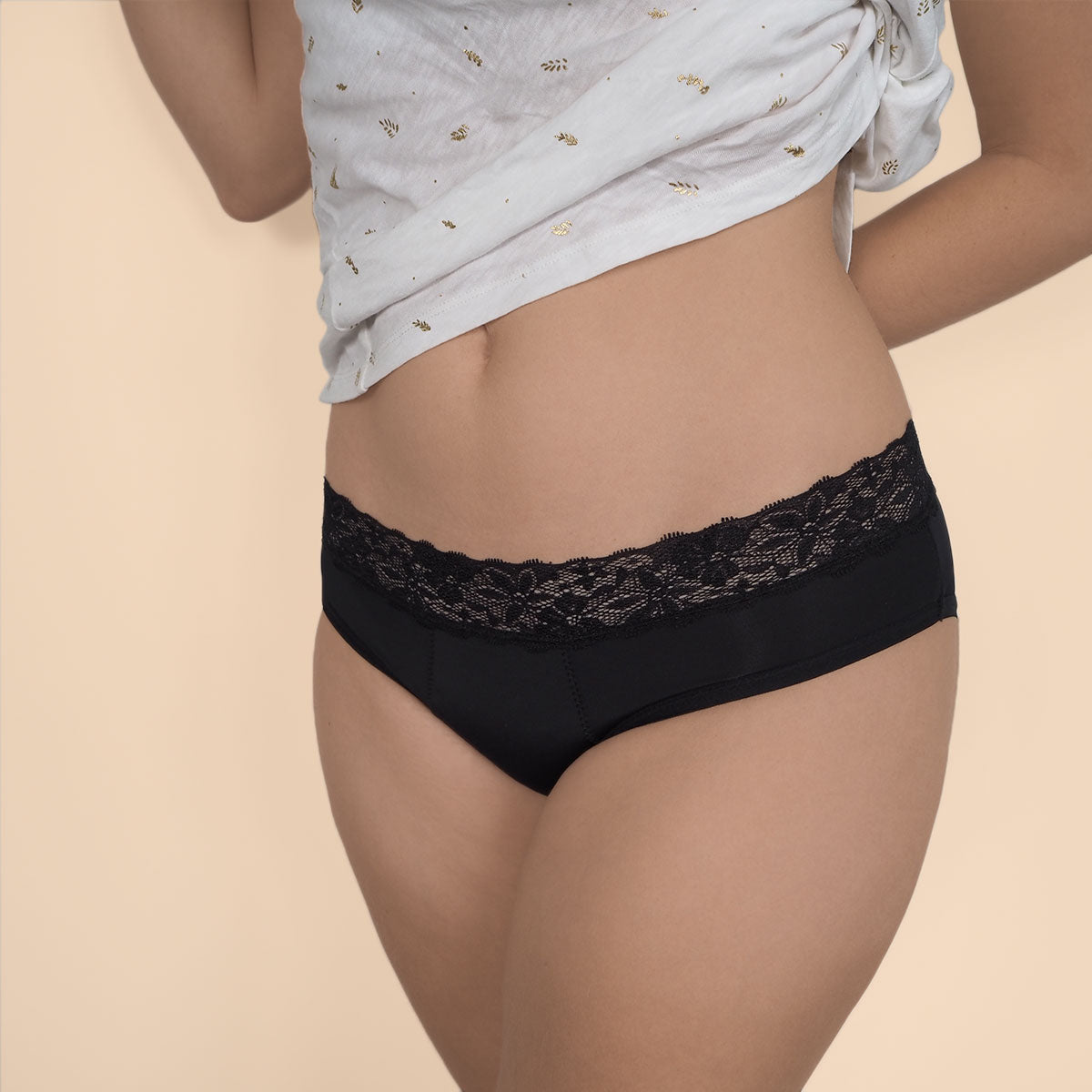 Our absorbent technology in action
Our ultra-absorbent Period Panties provide effective anti-leak and anti-odor protection.
5 (good) reasons to crack
Ultra Absorbent

Comfortable

Economic

healthy

Ecological
Care
Our period panties can be washed both by hand and by machine.
1️⃣ Wash your period panties several times before the very first use. This activates the absorbent technology.

2️⃣ After wearing, rinse in cold water until it runs clear.

3️⃣ Simply wash your period panties with the rest of your laundry.

4️⃣ Air dry. Reuse. Repeat!
Learn more →